It's almost that Sunday of the year that dads everywhere look forward to. This Father's Day do something special for dear old dad! What better way to show him you care than by getting the whole family together and enjoying some delicious food out on the patio—no dad can resist a good BBQ. Get your favorite ingredients, open your Bi-Fold Patio Doors, and fire up the grill. Keep reading for some tips and tricks on hosting a barbecue your Dad will never forget!
It's no secret Dads like to eat. That's why the food you prepare is the most important aspect of your Father's Day barbecue. Figure out your Dad's favorite dishes and include that in the menu! Don't forget to have lots of goodies to snack on while the main dish cooks. Your usual barbecue snacks like chips and dip, cheese and crackers, veggies, and deviled eggs are crowd favorites. If you want to spice things up or try a unique twist on a classic dish, check out these delicious recipes from The Food Network. Make lunch or dinner more enjoyable with plenty of carb-loaded sides like potato and pasta salad, garlic bread, and mashed potatoes!
Does your Dad have a favorite homemade dessert?... Or maybe he loves the cake from the local bakery—you know him best, so be sure to include some sweet treats that he will love! A variety of desserts to choose from is always the best idea (and then there's leftover sweets to indulge in all week)! For some fun and tasty desserts check out Delish. We highly recommend the Strawberry Shortcake Lasagna!
One word: BEER. Nothing will make your dad happier than being surrounded by family, except maybe some ice-cold beer. Stock up on his favorite beer and have a koozie on hand to ensure his beverage stays cold. Sunday is his day and you should make sure he always has a beer in hand!
Spend the rest of the evening enjoying each other's company and sharing stories about your Dad—he will love picturing himself through your eyes. Play card games or board games that everyone can participate in; take pictures and make new memories. Keep your Bi-Fold, Multi-Slide, Lift and Slide, and French Swing Patio Doors open and relax on the patio, soaking in that fresh summer air and enjoying indoor-outdoor living. Cherish this special, care-free moment that your whole family gets to spend together!
Can you imagine opening your Multi-Slide Door System with just the click of a button? Automation of your AG Multi-Slides is now possible—AG provides the necessary millwork preparation for smooth automation of your sliding door system! Keep reading to learn more about this new and exciting technology that you won't want to live without.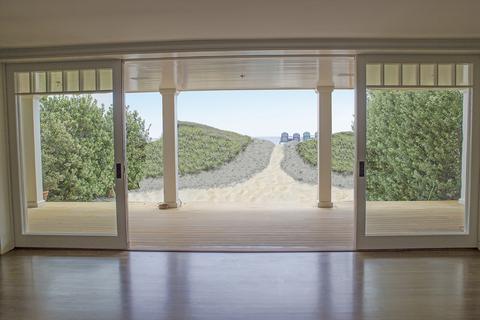 Automated door systems provide you with the ultimate luxury lifestyle. Automation of your Multi-Slide enables you to open, close, and lock your doors from the comfort of your couch, bed, or beach lounge chair. When you live or vacation this close to the beach, an automated door allows you to take advantage of that cool ocean breeze by frequently opening and closing your sliding doors with no effort!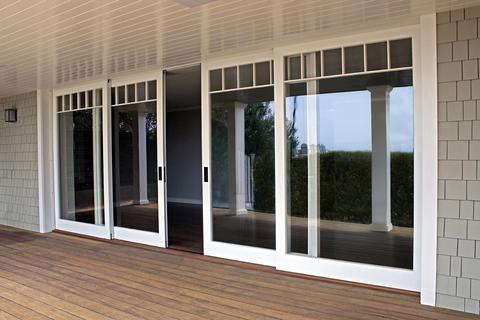 When you're busy cooking in the kitchen but want to open your Multi-Slides and let in the fresh evening air, simply click the "open" button in your Door Controller App on your smartphone! Remote fobs are also available for door control and have a range of 75 feet. An additional amenity is the secure keypad on the outside which is standard with automation and allows access to your home from the exterior via a four-digit pin code!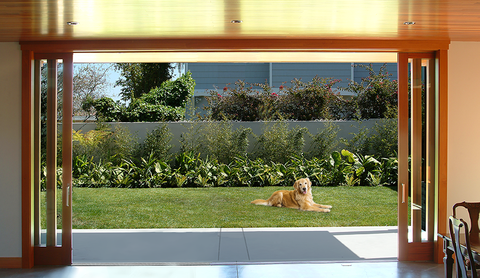 When your furry friends can't make up their mind about where they want to be, you can now let them inside or outside with just the lift of a finger! Automation of your sliders is achievable with the help of Summit Automation. Summit provides the motor, equipment, device installation, and all support. And don't worry about your door system being too large for automation because Summit offers four motor sizes—there's a motor fit for every size Multi-Slide.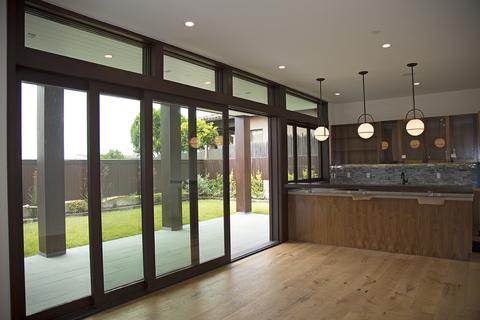 As a homeowner, your automated door system is a smart investment! The convenience of this technology will have you dreaming of the day all your doors are automated. Convenience aside, if you plan on putting your home on the market, an automated system will raise the value of your home and appeal to buyers looking for modern and luxurious home designs and innovations.
Automation is possible with both pocketing and non-pocketing Multi-Slide Systems. For more information, see our All About Automation page. For technical information, please visit Summit Automation. To learn more about pricing and to get a quote, click here. What are you waiting for? Your luxury lifestyle awaits!
We believe everyone can benefit from automated sliding doors, but if you want something more classic, we offer regular Multi-Slides, Lift and Slides, and Bi-Fold Patio Doors. To complement your AG patio doors, we also offer Bi-Fold Passthrough Windows that will fulfill your dream of luxurious indoor-outdoor living!
Site Mailing List
Register with this site to receive email notifications, updates and new site information. Enter your email address and press the submit button.