A 1929 period home receives a modern kitchen upgrade and creates an indoor-outdoor lifestyle with AG Pocketing Multi-Slide Doors.
The spacious kitchen features a large island in the center with a built-in stovetop and bar seating. It received new mahogany cabinets and marble countertops to keep the look classic yet modern. A swing door leads to an enclosed wet bar, just off the dining room.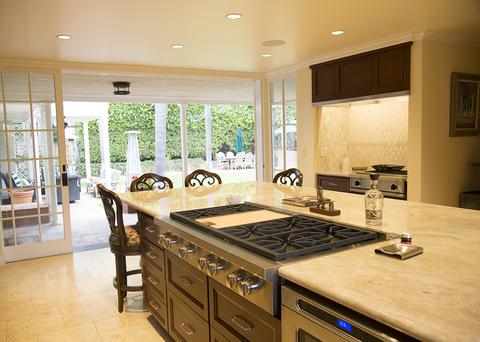 One amenity the homeowners love about their new kitchen is the indoor grill built into a small nook—it allows them to monitor the food cooking on the stove while working with food on the grill at the same time! The indoor grill is easier to use and clean while yielding the same results as an outdoor grill!
Though a modern upgrade was the goal, the homeowners wanted to maintain the 1929 style and charm of their home. They were hesitant to install a large sliding door because they thought it would look too contemporary among the other French doors and windows with divided lites and shutters.
Architect Kurt Gibbs had the perfect solution—an all-wood AG Multi-Slide Door that pockets into the wall. With the rest of the doors in the home in mind, the Multi-Slide was designed with 18 true divided lites in each sliding panel that were strategically placed to line up with and match the adjacent French doors. The homeowner comments, "The door system, when closed, perfectly complements the surrounding 1929 architectural style, becoming an integral part of our home. When open, it allows our interior space to seamlessly flow outside, enhancing its beauty and functionality." For maximum light flow, a matching French door-sized fixed window was built and placed in the corner next to the Multi-Slide.
The Multi-Slide opened the kitchen to the outdoor patio area, creating a perfect transition from indoor to outdoor spaces. The homeowner commented that this was the perfect set up for entertaining, and when he hosts parties he opens his pocketing sliders and eliminates the barrier from inside to out. This allows guests to migrate inside and out and enjoy the perks of indoor-outdoor living.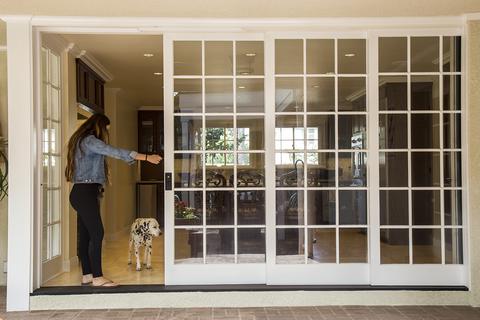 The homeowners are very pleased with the outcome of their remodeled kitchen, and they especially love the new indoor-outdoor lifestyle created by the AG Multi-slide: "In all architectural projects, there is always one feature which provides pizazz -- a magical element that allows the design to come alive. In the case of our recent kitchen remodel, that was the sliding pocket doors provided by AG Millworks." Their two dogs, a dalmatian and a yellow lab, are also enjoying the luxury of indoor-outdoor living!
Site Mailing List
Register with this site to receive email notifications, updates and new site information. Enter your email address and press the submit button.